EasyPark and Polestar launches a unique cooperation with the aim to automate your parking payments
In a new collaboration, the digital parking technology company EasyPark, together with the car manufacturer Polestar, aim to automate payments of your parking fee. – The cooperation is very exciting and together with Polestar we want to make the future of digital parking available today, says Johan Birgersson, CEO of EasyPark Group.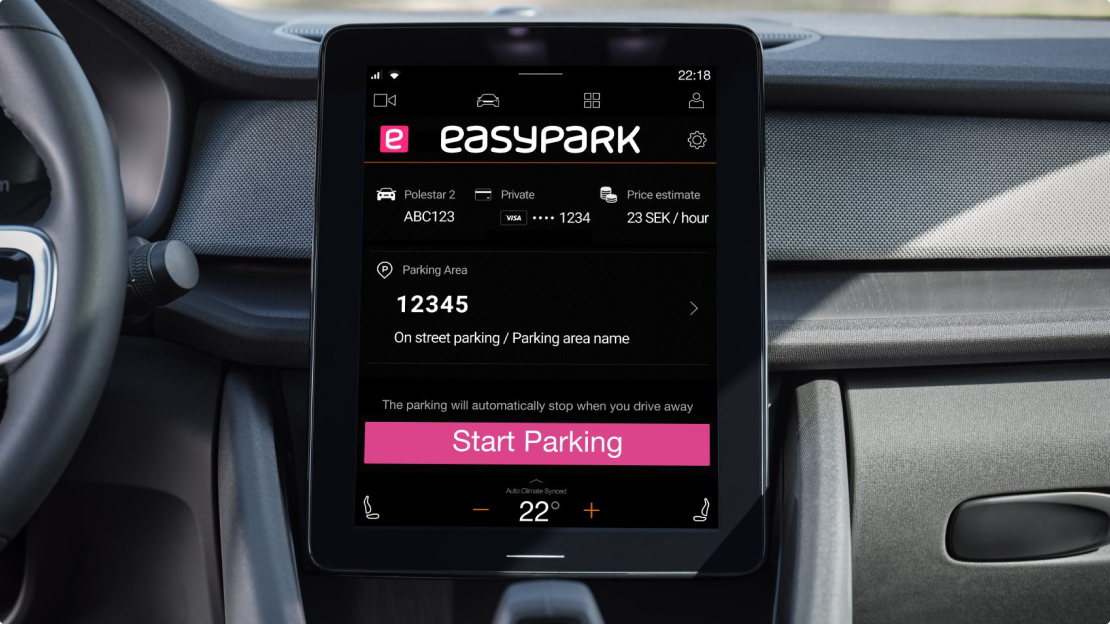 By seamlessly integrating EasyPark's app into Polestar's Android Automotive environment, the companies open up an entirely new range of value creating features and possibilities for the driver.
– With EasyPark, we developed a meaningful automotive app that adds real value. It will make your life more enjoyable and a bit more hassle free," says Thomas Ingenlath, CEO of Polestar.
The built-in app makes it possible to pay for parking without a parking meter or smartphone, the only thing needed is the Polestar 2 itself. This enables innovative features, such as the "autostop", that automatically ends the parking session when the car leaves the parking spot, making sure the user never overpays. It also opens up further innovation ahead: combined with a self-driving (or self-parking) car, it may enable a fully autonomous parking experience.
– By letting the app run on the car itself, we get a new range of possibilities. We are thrilled to add our expertise to the Polestar 2, and to be part of the journey towards a larger degree of driving automation, says Johan Birgersson, CEO of EasyPark Group. Our goal is to make parking as easy as possible, so that people can enjoy city life to its fullest.
– This changes the car fundamentally and makes it similar to a smartphone in how it can be used. The integration does not only alter the experience of the user but means a disruption of the automotive industry, says Maurus Haefliger, Head of Partnerships at EasyPark.
EasyPark is the most-used parking app in Europe with over 10 million users, and can be utilized to remotely find, manage and pay for parking on both streets and garages in over 2000 cities in 20 countries. The EasyPark app is now available for download from the Google Play Store in all Polestar 2 vehicles where EasyPark is available.
About EasyPark Group
Our award-winning digital services have been helping drivers manage their parking since 2001. But what we do doesn't stop there.  Our technology helps businesses, operators, and cities with parking administration, planning and management in over 1500 cities across 19 countries. What we do is make urban life easier – one parking spot at a time.